HEALTH CARE
WASTE MANAGEMENT
"Achieving Circular Economies"
Our Health Care Waste Management solutions are designed to help Health Care Facilities to easy manage their own biohazardous waste and therefore directly contributing to the circular environmental cause. For our customers this means, a lower total cost of ownership, reduction of operational costs, less landfilling and less incinerations: The end product is 100% circular.
OUR INNOVATIVE SOLUTIONS
Sterilwave® systems are the alternative sterilization solutions for health care institutions to reduce the risk of infection on site. The uniqueness and innovation of Sterilwave® lies in the use of industrial microwave technology instead of steam. This technology ensures a highly efficient and effective treatment process for specific hospital waste. The waste is fully sterilized (>8log) and has a lower weight and volume after processing. Compared to other solutions the Sterilwave® offers health care institutions , cleaner waste processing, safer working conditions and lower energy consumption.
STERILWAVE 100
The Sterilwave 100 is applicable to health care facilities generating small amounts of health care waste, and can process up to 20kg of waste per hour.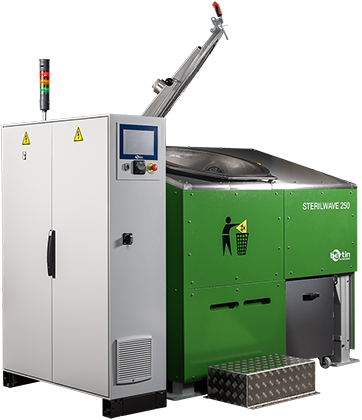 STERILWAVE 250
The Sterilwave 250 is intended for health care facilities that produce a medium amount of bio-medical waste, The Sterilwave 250 can convert up to 50 kg per hour of bio-medical waste into industrial waste.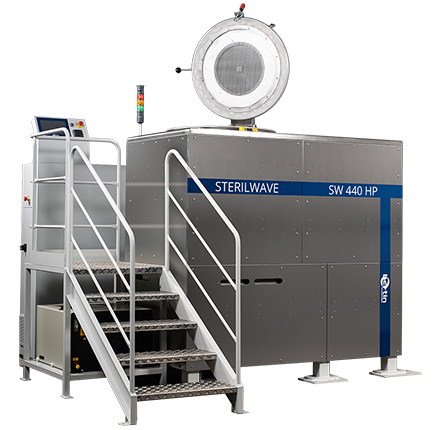 STERILWAVE 440
The sterilwave 440 is the ideal solution for health care facilities producing a large quantity of health care waste, and can treat aproximately 70kg per hour.
LEARN MORE ABOUT THE STERILWAVE
Watch the Sterilwave® video below to learn how the device works, its benefits and much more in just a few seconds! Do you have any questions about the video? Please contact us, without obligation, and we will be happy to tell you more.
10%
cost increase of waste processing
In the coming years it is expected that cost of processing biohazardous waste will rise year over year with approximately 8 to 10%.
19KG
of total waste per patient
Hospitals generate an average of 19 Kilograms of total waste per patient, per day.
15%
is considered as biohazardous waste
No less than 15% of hospital waste is considered to be biohazardous waste.
Feel free to contact us without obligation!